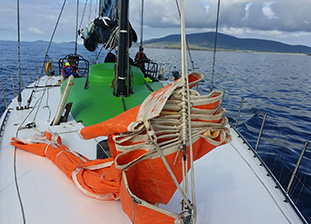 West Sails – Gaway, Ireland
Our sail loft is owned and managed by Yannick Lemonnier, a former professional sailor. Opened since Jan 2011, West Sails joined forces with Quantum Sails in 2013.
Prior to coming to Ireland, Yannick worked in La Rochelle with a leading French sail maker and he is trained in the most modern high tech CAD based systems and software. Yannick understands sail design and has the experience and expertise to advise you on all of your needs.
All Ireland Service
Quantum Ireland is the largest sail loft in Ireland with an impressive floor area of over 250 sq.m., capable of handling the largest sails such as VOR70 or MOD70.
We handle sails for all craft and service any type of sail, dinghies, cruisers, racers, windsurfers, kitesurfers and even windmill sails.
We are located in Oranmore, Galway, just 2 hours from Dublin and 2.5 hours from Cork with sail collection points in Dublin and Belfast.
Experience And Expertise
Yannick has sailed in excess of 90,000 miles, mostly single or double handed and has competed in 5 "Solitaire du Figaro, 2 transatlantic race double handed "AG2R", won 2 French National Student Match-racing championships, won French National Student Cruiser/Racer titles, Won  twice the Round Ireland Race double handed, (setting a double handed record). Yannick has competed in many "Tour Voile", Spi Ouest France, Cowes Week (TP52), Fastnet Race double handed, 4 Dun Laoghaire to Dingle Race.
Yannick is a regular sailor on Mini 6.5 and catamaran.
Yannick's passion is sailing and he recognises the skills necessary to sail at a competitive level. He understands the importance of using the very best materials and resources available to him. He has carefully selected Quantum Sails as his preferred partner and looks forward to sharing his experience and expertise with you.
West Sails
90000
Miles Sailed By Yannick
250
Sail Loft In Sq Meters
2013
Joined Quantum Sails